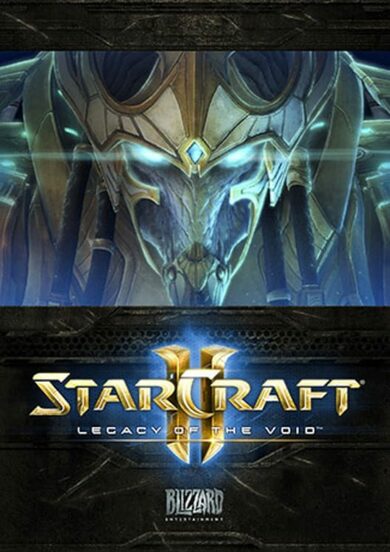 »INFORMAÇÕES«
Categoria: Jogos de PC
Gênero: Estratégia em Tempo Real
Ano de Lançamento: 2015
Tamanho: 19,5 GB
Fabricante: Blizzard Entertainment
Formato: ISO
Crack: Incluso
Idioma(s):  Inglês
Release: RELOADED
StarCraft.II.Legacy.of.the.Void-RELOADED
SINOPSE: Você é o Hierarca Artanis, líder da poderosa raça protoss. Anos atrás, o seu mundo natal, Aiur caiu perante o implacável Enxame zerg. Agora você finalmente ergueu uma frota poderosa de naves de guerra conhecida como a Armada Dourada, e está pronto para resgatar seu mundo. Porém, um mal antigo, Amon, ameaça o destino e rumos de toda a galáxia. Cabe a você reunir os protoss e derrotar as trevas vindouras antes que elas consumam toda a vida no setor.
PS: Wings of Liberty e Heart of the Swarm estão incluídos, como estão offline mapas multiplayer e arcade!
StarCraft II: Legacy of the Void (PC) Torrent (2015)
Caso haja algum problema de reprodução: K-Lite-Codec-Pack
 REQUISITOS MÍNIMOS:
Processador: Core 2 Duo ou Athlon X2
Velocidade do processador: 2 núcleos de 2.6 GHz
Memória RAM: 2 GB
Memória de vídeo: 128 MB
Placa de vídeo: NVidia Gforce 8 Serie / ATI Radeon HD 2000 Series
Versão do DirectX: 9.0c
Sistemas Operacionais: Windows 7/8/10
Espaço: 5 GB livres em HD
COMO INSTALAR:
1. Monte a ISO
2. Instale
3. Copie o conteúdo da pasta CRACK pra pasta de instalação do jogo
4. Jogue
Execute o jogo off-line usando \ "StarCraft II Offline.exe \". Atualize seu jogo
atalho, se necessário. Os seguintes parâmetros lançador são suportados:
-keygen (cria uma licença de entrada reg para o jogo off-line)
-genprofile (gera perfil offline dummy para \ "John Doe \")
-cacheinit (copiará cache para% programdata%)
StarCraft II: Legacy of the Void (PC) [2015] – Download Torrent